"The bodies are understood as a social mycelium, which in the absence of the "I" suddenly become a present "we". Dancing mycelia thus become a tool of articulation and actualizion of a social discourse."
---
One body is not enough is a space for questioning identity and the multiplicity represented by a single body. In a shared space, four dancers play up with their political bodies to highlight key questions: How is our identity constructed? Is it determined by our bodies? Maybe by a cultural identity? Or maybe by our family identity?
The piece reflects on what defines us: first emerges the body and its gender, a gender identity that belongs to a family and is part of a social group that forms a culture and emanates from a particular country. In doing so, it attempts to grasp the notion of multitude of four collaborating dancers from four different countries: Slovenia, Slovakia, Czech Republic, and Argentina.
These diverse origins provide a wide canvas for a radical exploration: What are our unique social gestures? Can we discern elements of our own identities in our movements? Is it possible to detect atavism in us? And what distinguishes us in our individual homelands?
One body is not enough looks at the notion of identity to understand better the complexity of interpersonal relationships; and the resulting verbal and non-verbal communication, language, social adaptation, and individual behaviors that interact with the community. The physical postures of the family, the movements of the body that represent the homeland—everything that allows us to identify ourselves—is research material in this piece.
In the context of today's society, which is moving toward new conceptions of what constitutes our identity and defines who we are, this self-questioning seems necessary. The creators of the play aim to transcend narrow perspectives and simplistic answers, encouraging individuals to challenge their own self-conceptions and uncover surprises along the way. They invite the audience to question the 'reality' of their political, social, and abstract bodies to enter in the process of disidentification, which allows us them discover other ways of positioning our bodies.
Credits
Concept and direction: Agostina D'Alessandro
Created with and performed by: Milan Tomášik, Kristýna Peldová, Žigan Krajnčan, Agostina D'Alessandro and Kristijan Krajnčan
Original music: Kristijan Krajnčan
Light design: David Cvelbar
Video and photography: August Adrian Braatz
Graphic design: Rok Marinšek
Executive producer: Urška Centa
Producer: Goran Pakozdi
Production: NEST Institute
Co-production: Flota, Murska Sobota, Flota, Ljubljana
Partner: Adrian film Institute
Special thanks to Andreja Kopač.
In The Nature of Intimacy, the choreographer brings together four dancers, a soprano singer and two musicians around the work of Francesca Caccini, an Italian composer and singer of the 17th century. Transported by the beauty of the vocal writing, each gesture becomes a caress, each palm becomes an offering.
Credits
Création, chorégraphie, direction : Agostina D'Alessandro
Compositrice musique originale : Selma Mutal
Chanteuse soprano : Roxane Choux
Danseuses : Eleonore Pinet Bodin, Jessica Eirado, Paz Moreno et Priscilla Pizziol
Musiciens : Emanuel Cremer (violoncelle), Sofie Vanden Eynde (luth)
Scénographie, artiste visuel : Carol Solvey
Réalisation vidéo : Michaël Thiel
Production : Danse et Expansive Being Asbl/​Compagnie Agostina D'Alessandro
Coproduction : Les Brigittines, Charleroi danse — Centre chorégraphique de Wallonie-Bruxelles, Festival Présences Compositrices, Festival Mars en Baroque — Concerto Soave. Aide à la création de la Fédération Wallonie Bruxelles – Service Danse
Résidences artistiques : BAMP, Grand Studio, Charleroi danse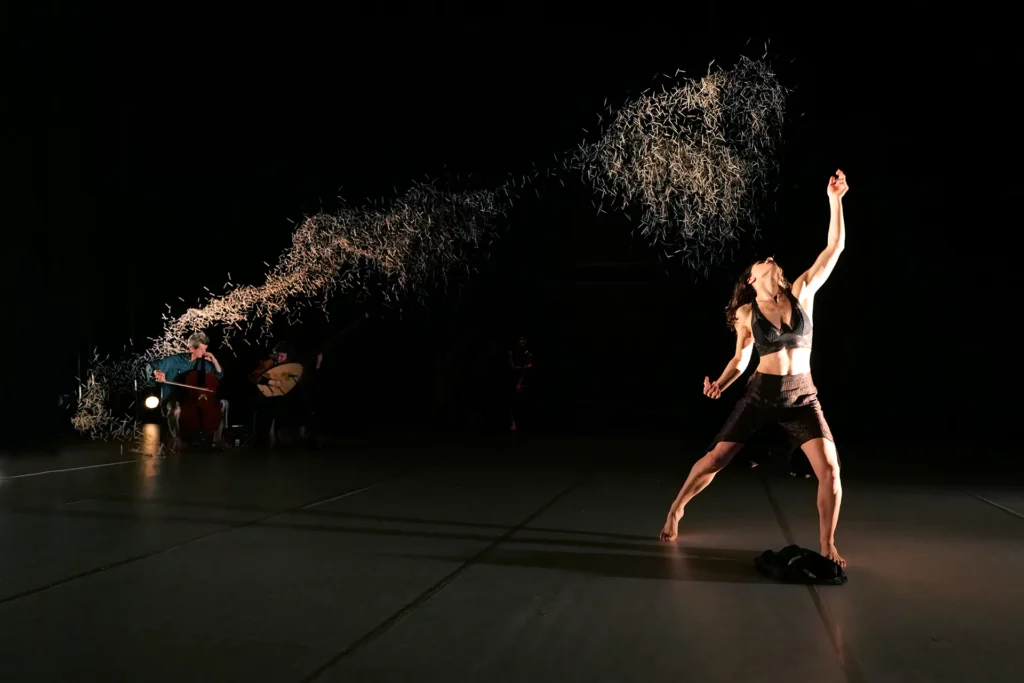 Formless Mirror (she who reveals)
What is being a man, or, in these times, becoming one?
4 dancers, 4 men give to see and feel, in body and soul, in a disarming sincerity of offering, the masculine vulnerabilities, where the History unlearned us to flush them out, nor to take care of them; in a time, also, ours, where "to be born man" does not mean that one becomes it any more. 
(Quote from "The Second Sex", Simone de Beauvoir, 1949) – Céline Rallet
Credits
Creation, direction & choreography : Agostina D'Alessandro
Performers : Hernan Mancebo Martinez, Jochem Eerdekens, Edoardo Sgambato and Elliot Minogue-Stone
Musical dramaturgy and live performance : Michaël Grëbil Liberg

A coproduction from Le Senghor, Expansive Being Asbl and le Théâtre Marni. The company is supported by the Fédération Wallonie Bruxelles and accompanied by the Grand Studio.
Created in Senghor in February 2020.
TOWER SPEAKS is a dialogue between two bodies, a dialogue in between the music and the dance, a dialogue between two characters, a dialogue in between a man and a woman, a dialogue in between mind and soul. Floating in an atmosphere full of misery, the dancers are able to build a new dimension of a relationship.
---
Credits
Concept & direction : Agostina D'Alessandro
Performers : Hernan Mancebo Martinez & Agostina D'Alessandro
Live music : Pierfrancesco Mucari (saxophones, marranzani & electronics)
Production : Compagnie Agostina D'Alessandro / Expansive Being – PERFORMARE FESTIVAL 2021
The work of the artist Agostina D'Alessandro is supported by Federation Wallonie Bruxelles and Grand Studio
UNFINISHED – Hasselt, Germany (Juin 2019)
Dance performance created for SOZO- Visions in Motion
Credits
Concept & direction : Agostina D'Alessandro
Live music : Michiel (guitare) 
Performers : 3rd year SOZO